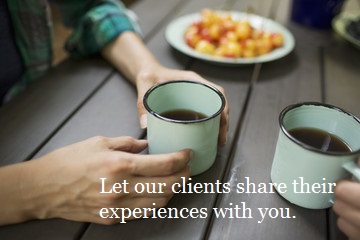 The only source of knowledge is experience.
-Albert Einstein
Diligent, Responsive, and Thorough
"Nancy did an amazing job in negotiating a fair price on top of quarterbacking the deal from start to finish in the most professional way. I would highly recommend Nancy she is diligent, responsive and thorough!"
Erin G. 2018
A Needed Perspective
I met Nancy and Janet through a family member and have used her services to buy and sell a property. The experience was excellent. She is knowledgeable, provided a needed perspective and was assertive in getting the job accomplished quickly and efficiently. I can't say enough good things about my experience and would highly recommend Nancy and Janet to others.
Lisa P. 2017
Smooth Selling
"Our house was priced perfectly, and the timing to go on the market was excellent as well. We had an offer very quickly and a smooth sale at a great price. I highly recommend Nancy and Janet – they are great!"
Joanne C. 2017
Expert Knowledge
"Nancy is an expert in the Domain! She is a historian and enthusiastic about the building. She loves the building. If you are interested in buying or selling in the area, especially The Domain, go to Nancy. You will not be sorry."
Diane F. 2017
Attention to Detail
"Nancy is nothing less the superb! Her attention to detail, the process, and keeping me informed with respect to what's happening was second to none. When Nancy wasn't available, her staff was. Nothing was ever overlooked, and she was always one step ahead of all the parties involved in the sale.
I will always use Nancy – She and her staff are truly wonderful!!!!"
James F. 2017
Trust
Nancy was very friendly and knowledgable. Extremely easy to work with and we trusted her! I would totally recommend her!
Brenda A. 2017
Satisfying Results
Was referred to Nancy by a friend who was very satisfied so I didn't feel a need to shop around. Nancy helped me initially with finding a renter for my place. That process worked great, she found an excellent tenant that I had for two years. When it came time to sell, Nancy had good information about what was going on in the neighborhood that helped me with my decision on what renovations to make, when I put it on the market, etc. My place sold and closed quickly- the process was WAY LESS painful than I expected!!
Linda W. 2017
Professionalism
"Nancy was very knowledgeable, professional, easy to deal with and did an excellent job. I would recommend her to anyone."
June S. 2016
Patience and Proactivity
"Nancy and Janet go above and beyond as real estate agents – I'm always amazed at their level of client service.  They helped me get a beautiful new home and navigate one of the first short-sales in 2008.  They never wasted my time on seeing things that did not fit my criteria and always exceeded my expectations.  Nancy also always kept an eye out for what I wanted and would alert me when anything interesting came on the market.  Nancy and Janet have that great mix of patience and proactivity – helping you on your search and anticipating your needs.  Recently, I also unexpectedly had to go on assignment overseas, and they were able to find great tenants for my apartment while I was away.  They looked after my property, and were available at odd hours when anything went awry.  I couldn't be happier with their service and recommend them highly."
Amy M. 2016
Ideal Fit
"Nancy was my ideal fit for my first time buying a home. She always made me feel like I was her priority, even when I was just looking. She never pressured me and instead was a guide who knew SO much about all the Chicago neighborhoods I was considering. When it was time to move quickly, she also did that – and I am loving my new home in River West. I loved working with Nancy and look forward to it again down the road. "
Noelle P. 2016
Support
"Janet and her team get the job done. She works hard to develop relationships that help seal the deal. She has great support and service providers as well."
Donnie A. 2014