By: Emma Gonzalez | December 7th
As River North Specialists, we work to update our clients whether they're landlords, tenants, or property owners about the expanding area. Knowing about changes in the neighborhood can help you make informed decisions on whether to buy or sell. More importantly, it can increase your quality of life to enjoy your neighborhood.
River North is on the forefront of innovation and job creation. Earlier this year, we saw the announcement of the North Branch development which is one of the largest zoning changes in history. In September a healthcare technology company, staked its claim for a new office in River North to accommodate 2,000 employees by 2022 to drive innovation and job creation.  Finally, Curbed Chicago looked at over 14 different construction sites in River North that range from new hotels, to rentals, and condos.
It is no doubt an exciting time for River North as expansion and new additions bulldozes its way into the city. However, if you're not looking for a new job or place to live, is there anything for you to enjoy? For those already living in the area or wanting more River North in their life, there's a way to enjoy some of the brand spanking new changes… River North Gym.
The River North Gym or RNG for short, is slated to open at the end of the year with memberships starting as early as January 1st, 2018. With one other location at Merchandise Mart, RNG is taking over the once coveted Dave Barton Gym that closed in late 2016. The Chicago Sun Times spoke to the new owner, Bernie LeCocq about the massive changes to the facility and a new method of approaching exercise.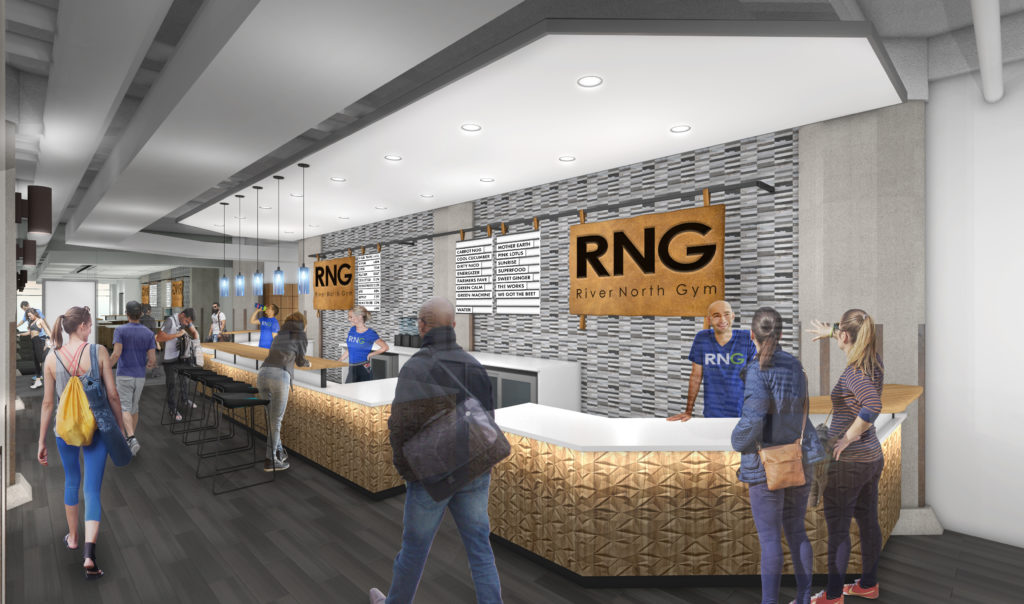 Just in time for the year new. This 27,000-sq. ft. gym will have everything fitness dreams are made of. From a sauna to steam room to 2 hours validated parking you can focus on yourself and your health with ease.
While we all know the benefits of exercise both physically and mentally, sometimes it can be difficult to get the medicine ball rolling. New year, new me seems like an overused phrase, but take it as an important reminder that it is never too late to join the gym and get in shape. RNG has group fitness classes to help you stay on track and provide you space to feel comfortable exercising. Some of our favorites include Body Pump, Werq, Tabata Blast, and bootcamp classes to show you different moves for healthy results.
They also offer The Sweat Principle as a small group training program for a more inclusive work out experience.  You're assigned a coach that helps you develop a plan. Not just a regular workout plan, but a plan for calorie intake, your heart rate zones, your BMR (Basal Metabolic Rate) for a fully customized program for your needs.
Individual and semi-private personal training are available as well. If you're looking to join the new gym, check out their website for membership information, updates, and more.